Match 1 – Rosary College vs KCS (1-2 to 7-8)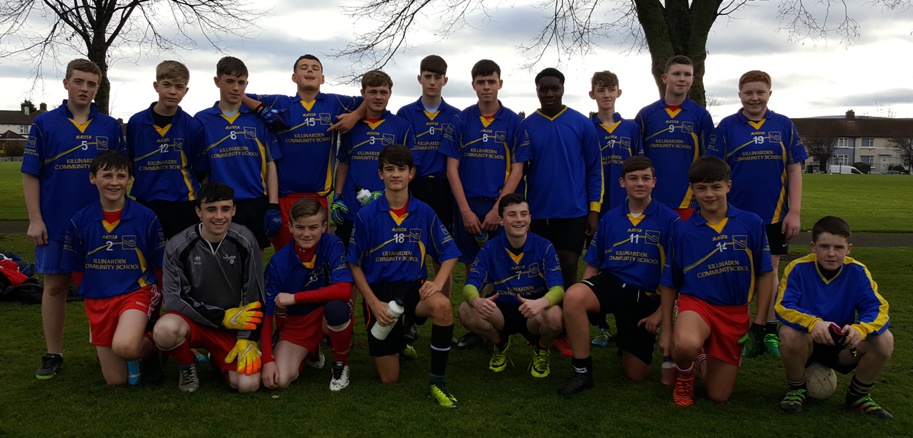 This years under sixteen campaign started out on a beautiful November day in Pearse Park in Crumlin against Rosary College. In what was KCS's first outing of the year since last years under fourteen competition, KCS put in a huge display to be victors on the day. Every member of the squad contributed at different stages of the match but special mention must go to Jamie Yeates in mid field who had the difficult task of marking Rosary College's stand out player and did an excellent job. Lennon Meade contributed handsomely on the day with 3-4 from play. The flying Aaron Jacob also got on the score sheet with a great move from half back after linking up with Lee Finneagan. Ali Romeo, Conor Lynch, Eoin Moore, Luke Dempsy and Glen Warner also registered scores for KCS a different stages of the match. The final mention of the day has to go to Nathan O Callaghan in goals/ full back who was like Gandalf in goals "YOU SHALL NOT PASS!". He pulled off three or four amazing saves that certain goals otherwise.  The game was played in a great spirit by both sides and we look forward to the return fixture next year.
Match 2 – Greenhills CS vs KCS (4-7 to 1-4)
KCS's second day out was on a cold frosty day in Perrystown. It was a difficult day to stay warm let alone play good football. On what proved to be a very testing day for KCS against a quality opposition in Greenhills there were some stand out performances. On their first appearance for the under sixteen gaelic football team Jack Greene and Evan Kavanagh put in some huge hits to the delight of Mr Kevlihan. From looked like a far superior team in strength and height the two lads embodied the true spirit of KCS and stuck a huge challenged up some dominant Greenhill's player who were having a lot handier time before the two lads entered the fray at half time. As per usual Jamie Yeates put in huge energy throughout and Gavin Byrne never stopped shouting. Hopefully will will get the chance get another go at Grenhills in the lather stages of the competition.
Match 3 – Preliminary Balinteer CS vs KCS (4-4 to 6 -5)
Having qualified second out the group stage KCS had to play a qualifying preliminary match against Balinteer CS for the right to enter the quarter final knock out stages of the competition. This was definitely our closest fought battle to this date as both teams were very evenly matched. Balinteer and KCS traded early scores with Eoin Moore and Lennon Meade registering the first blows for the home team. Luke Dempsy at centre back had a very commanding display and as per usual Jamie Yeates used his tireless energy to wear down an impressive mid field pairing for Balinteer. The goal of the game came in the closing stages fro Cian Dunne who lobbed the keeper from 30 yards out and the ball came down off the underside of the cross bar and crossed the line. Special mention has to go to Aaron Jacob and Gavin Byrne on the day. Gavin stepped into goals with the absence of our normal goal keeper and Aaron had a fantastic game having only days previous being involved in a traffic collision.
Match 4 – Quarter Final St Kevin's College vs KCS (1-3 to 6-9)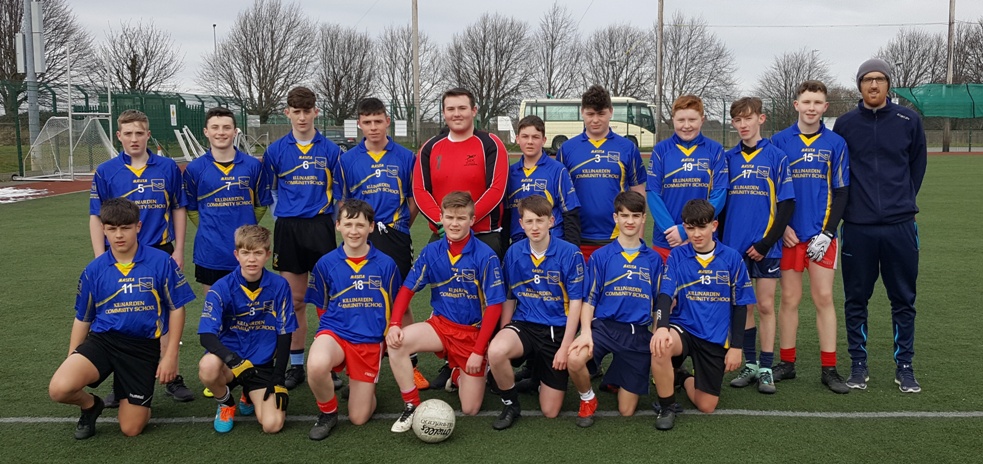 Match day four was KCS's quarter final outing against St Kevin's College of Clondalkin. The lads were accompanied by Mr Kevlihan and KCS's original bad luck charm Mr O Mhaoligh. It what proved to be a fairly one sided equation from five minutes onwards. KCS equipped themselves very well and played some very good football throughout. Conor Lynch ended the day with a fantastic tally of 3-2. Ryan Dunne at corner back put in a very impressive displayed and has shown very good progression over the course of 3 matches for man that clearly blurred the lines between MMA and GAA in the first couple of games. After numerous attempts at trying to score and failing comprehensively, Evan Kavanagh teed up Cian Dunne who kept up he record of a goal a game with a fine left footed finish. Special mention has to go to Craig Daly who become the third person to mind the nets for KCS, in this his debut for the team. Jack Greene really shook his early morning bed brain to be the rock of the full back line. Its was also great to see John Gibbons back in the team after a logistical error prevented him from playing the last day.
Match 5 – Semi Final Kylemore College vs KCS (4-8 to 0-6)
KCS entered its first gaelic semi final in recent history with great excitement. They faced a very good Kylemore College team who were undefeated in all of their previous games. KCS were slow to start and unfortunately coincided four soft goals in the opening ten minutes. It looked like it was going to be a long day for the KCS lads as they struggled to get a foot hold in the opening exchanges whilst also battling a strong breeze. KCS finally kicked into gear for the last ten minutes of the half after a few tactical changes. Jamie Yeates got KCS's opening score from play and that was quickly followed buy a free by Glen Warner. Has the half grew closer KCS really increased in confidence and put Kylemore under huge pressure for the remainder of the Half. This was epitomised by the performances of Cian and Ryan Dunne. Two of the smallest lads of the field showed huge spirit and determination throughout and won ball that they had no right to win. At the half the score was 4-7 to 0-2 and we had battled hard.
In the second with the aid of the breeze KCS had the lion share of the possession and limited Kylemore to a solitary point for the entire half. Luke Dempsy was immense in midfield and put on a massive display of high fielding catching numerous kicks out above the heads of a number of Kylemore's players. KCS's really needed a goal to kick start the come back but unfortunately it never came due to a solid Kylemore defence. KCS were limited to four frees where Kylemore were forced to foul due to the constant KCS pressure. What really optimised the spirit of the KCS lads on the day was the fact that they were dealt four hammer blows in the opening ten minutes yet never gave in. On the last kick out of the day four to five KCS players were screaming wanting the ball and were unwilling to surrender even to the dying minutes of the game.  Myself and Mr Ruth walked away from the game delighted the spirit, attitude and determination that the players had shown throughout the game. Unfortunately is wasn't to be our day and were beaten by a better Kylemore College team. We wish them every success in the final