Congratulations to the 1st year boy's gaelic football team that won their first outing away to Mount Seskin. The final score was 4-6 to 2-4. The man of the match was Lee Finneagan and a special mention has to go to Chris Georgiou who scored the first point of the game in his first ever gaelic football match! He only had seen gaelic football for the first time the week before. Well done.
The second and third round games were held in Tomas Davis Gaa Club on Wednesday the 24th of September and were run like a blitz tournament.
Congratulations to the lads and ladies on the first year gaelic football team. They have two great victories against Greenhills CS and Mount Seskin but unfortunately lost out to a strong St Aidans CS team. There was a lot of stand out performers on the Megan McGanny was excellent throughout as well as Brandon Norton, Brooklyn Mooney, Nathan O Callaghan and Nathan Bridger.
Match 1: KCS 3-4 v Greenhills CS 2-1
Match 2: KCS 0-0 v St Aidans CS 4-9
Match 3: KCS 1-2 v Mount Seskin 1-1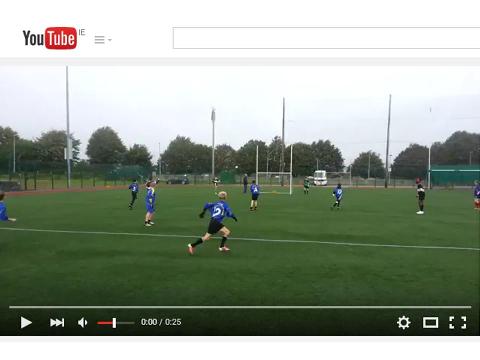 Quarter Final of the Tom Quinlan Plate vs Cabinteely Cs
 Unfortunately KCS came up against a better side in Cabinteely on the day. It was tight first have with both teams coming in with a score of 3-2 at the half. There was some great score taking by Cian O Neill and Nathan Bridgen. However in the second half Cabinteely proved to be the better team by the end of the sixty minutes but they didnt have it all their own way. Cian O Neill scored a penalty, Liam Coffey score a fantastic point and Patrick Carthy was a constant menace in every part of the field. The final score was 4-5 to 8-4 but the four goal difference didn't reflect the massive effort displayed by the KCS 1st years and were unlucky to lose to a few unfortunate goals. We look forward to seeing these students represent KCS at under 14 gaelic football next year!